Launching in October 2023, insha'Allah

Transformative Education, Inside-Out
The Seminary (online with on-site elements) offers a 5-year , unique, carefully designed curriculum that transforms a student from the inside-out by holistically integrating knowledge ('ilm), practice ('amal), mentorship and fellowship (suhba), and applied life-learning.
The Suhba Seminary is an institute of higher Islamic learning. It aims to anchor every Muslim in Islam's spiritual and rational legacy, equip them with knowledge and skills to safely navigate the challenges of modernity, and inspire them to live lives of true happiness and freedom. Below you will find details regarding on-site attendance.

General Rules of On-Site Attendance of Suhba Seminary Classes
Students may attend the Seminary classes physically during any module during the academic year from October 8, 2023 to June 15, 2024.


The classes include the Core course taking place on Mondays, the Advanced Elective on Tuesdays, the Group Remembrance and Journey through the Quran class on Thursdays, the Jumu'a Reminder on Fridays, and the Applied Seminars once every 4-5 weeks.


The program administration is only responsible for holding the classes.

 

The administration is NOT responsible for housing, transportation, or other needs that arise from physical class attendance.

 

However, the administration will provide students with a guide to help answer their questions. For housing, students are recommended to utilize Airbnb for their accommodation needs: https://www.airbnb.com/uskudar-turkiye/stays.  The location of the classes is still being finalized but will, insha'Allah, be in the area of Uskudar – in the Valide Atik Camii or the surrounding area.



Please note that US and Canadian passport holders are required to apply for an e-visa for Türkiye to enter Türkiye for the purposes of tourism. For e-visa details, please visit: https://www.evisa.gov.tr. This e-visa will allow US/Canadian passport holders to stay in Türkiye up to 90 days in every 180 days starting from the first entry date.  One may apply for an e-visa once every 180 days. For non-US/Canadian passport holders, please confirm Türkiye's visa regulations specific to your passport nationality.
Students attending on-site must be 18 years and older by the program start date; otherwise they may attend class only with a parent or guardian.


Some students between 18 to 21 may also be required to attend with a parent or guardian as determined by the program administration.
Program Attendance Conditions
Abiding by the country's laws and customs and not disrupting them in any way.


Not being a source of disruption in the community through actions and behaviors antithetical to Islamic teachings or local customs.


Ensuring any non-student family members or guests follow these same guidelines.

 

Family and friends that do not abide by these rules may be grounds for not allowing students to physically attend class.


Ensuring one's children do not disturb our Islamic norms, local customs and overall environment.


All the attendance rules above apply also to any other additional classes or Seminary activities.


The administration reserves the right to ask students to no longer physically attend the program due to any such reasons as mentioned above, or other reasons that the administration deems important.
In addition to the aforementioned General Rules and Program Attendance Conditions, those who attend classes must also abide by the Student Code of Conduct, which includes, but is not limited to the following:
To ensure a proper learning and practicing environment, the Student Code of Conduct must be abided by.

 

Any student who is unable or unwilling to abide by the Code of Conduct will kindly be refused continued access to physical class attendance and may be allowed to continue with only online studies.


Some Student Code of Conduct include the following:



Arriving to class at least 10 minutes before the start of the class.


Maintaining an Islamic attire in and around the vicinity of the class space.


Not disrupting the class in any way and following guidelines set forth by the teachers and administrators.


Students are not allowed to attend class without prior administration approval.


Students may not bring guests without prior administration approval
Dates
The first year of the program will begin on Sunday October 8th, 2023 and end on Saturday,  June 15th, 2024.  An academic calendar will be made available to enrolled students.  
Class Timings
All classes are recorded.
Monday: 
Core class   
2:00 pm to 4:00 pm, Istanbul time
7:00 am to 9:00 am, NY time
Tuesdays: 
Advanced Electives class 
2:00 pm to 4:00 pm, Istanbul time
7:00 am to 9:00 am, NY time
Thursdays:
A Group Remembrance and the Journey Through The Quran Class 
4:30 pm to 6:30 pm, Istanbul time
9:30 am to 11:30 am, NY time
Sundays:
Fellowship and Practice Review Session 
5:30 pm to 7:00 pm, Istanbul time
10:30 am to 12:00 pm, NY time
Class timings will vary throughout the year to accommodate local salah timings. 
Online class timings may vary due to local daylight savings time.
Orientation:
Sunday October 8, 2023
Core Module dates:
Tazkiya:  Oct 9, 2023 – Nov 6, 2023
Usul al-Fiqh:  Nov 13, 2023 – Dec 11, 2023
Al-Haqiqa al-Muhammadiyya:  Dec 18, 2023 – Jan 15, 2024
Qur'an/Tafsir:  Jan 22, 2024 – Feb 19, 2024
Hadith Sciences:  Feb 26, 2024 – Mar 25, 2024
'Aqida/Theology:  Apr 15, 2024 – May 13, 2024
Inner and Outer Fiqh:  May 20, 2024 – June 10, 2024
History, Politics & Culture:  May 21, 2024 – June 11, 2024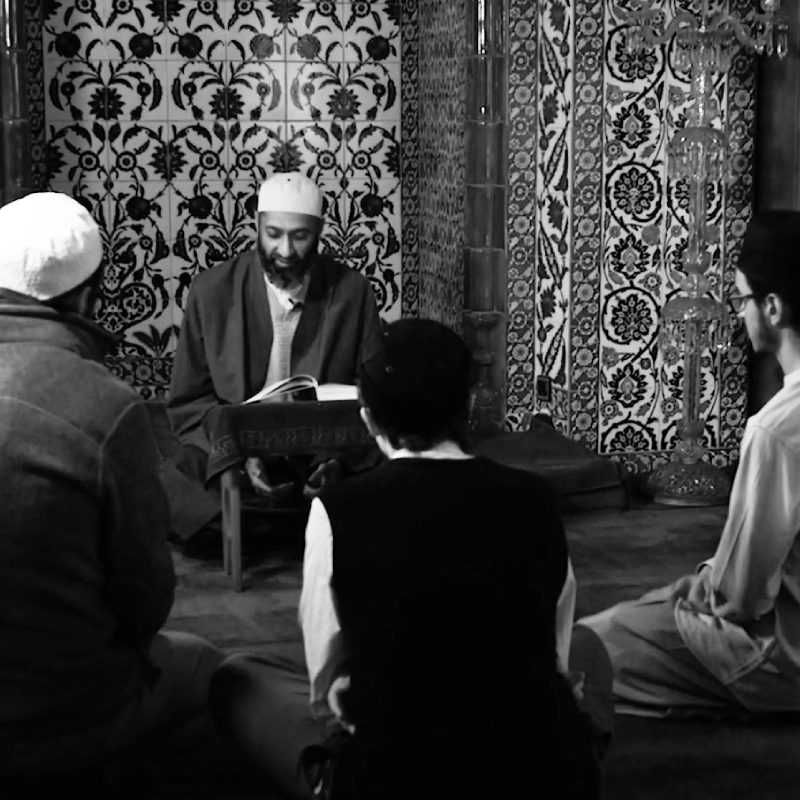 Tentative Applied Seminar Dates
Applied Seminar dates:
Applied Seminar 1:  Oct 14, 2023
Applied Seminar 2:  Nov 11, 2023
Applied Seminar 3:  Dec 16, 2023
Applied Seminar 4:  Jan 20, 2024
Applied Seminar 5:  Feb 24, 2024
Applied Seminar 6:  Mar 23, 2024
Applied Seminar 7:  May 4, 2024
Applied Seminar 8:  June 8, 2024
Closing Session:
June 15, 2024
Classes will be a combination of synchronous and asynchronous learning.  However, we are endeavouring to offer most of our classes live with as much interaction as possible.
All classes are recorded and made available on the Suhba Seminary course page for students to watch and review the material at their convenience.
Recorded classes will be posted between 2-3 days after the live class.
Please consult our Prospectus for a more detailed exploration of the Seminary and its curriculum: Available here
Tuition 
The tuition is $2500 for the entire year. Scholarships are available.
Additional same-household family discounts are available.  The tuition for the first student registering from a given household is $2,500 USD.  Each additional student registering from the same household is an additional $500 USD until a cap of $4,000 USD is reached for 4+ students from a single household.

Costs for visa, travel, housing, food and other incidentals for those partaking in the on-site program are the responsibility of the student and not included in the tuition.  
A separate application for on-site attendance is required after enrolment and acceptance in the program.  This will be found on the course page after registration is complete.  No additional tuition is required for on-site attendance.